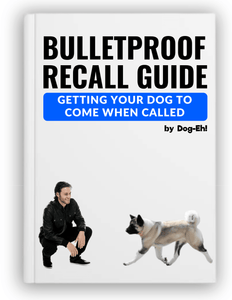 Bulletproof Recall Guide (eBook)
Regular price
$19.97
$0.00
Unit price
per
Are you tired of your dog ignoring you when you call them? Imagine your dog running towards you, full of energy and excitement. Imagine how much more fun it would be to play with your dog when they come when called. With our Bulletproof Recall Guide your dog will come with a burst of enthusiasm and speed.
Bulletproof Recall includes:
Teach your dog to come when called in the real world, not just at home or in a training setting
Common recall issues answered
​Positive training methods: no corrective training equipment, harsh corrections, or intimidating training techniques
Training sessions are broken down into fun games so your dog wants to learn and you both have fun
​​Coming when called is an essential life skill that could save your dog's life
​Decrease the likelihood of your dog running away and getting lost by having a "bulletproof recall"
​and more!
A pdf copy of your eBook will be emailed to you immediately after your purchase is made and payment is processed.
---
Share this Product
---